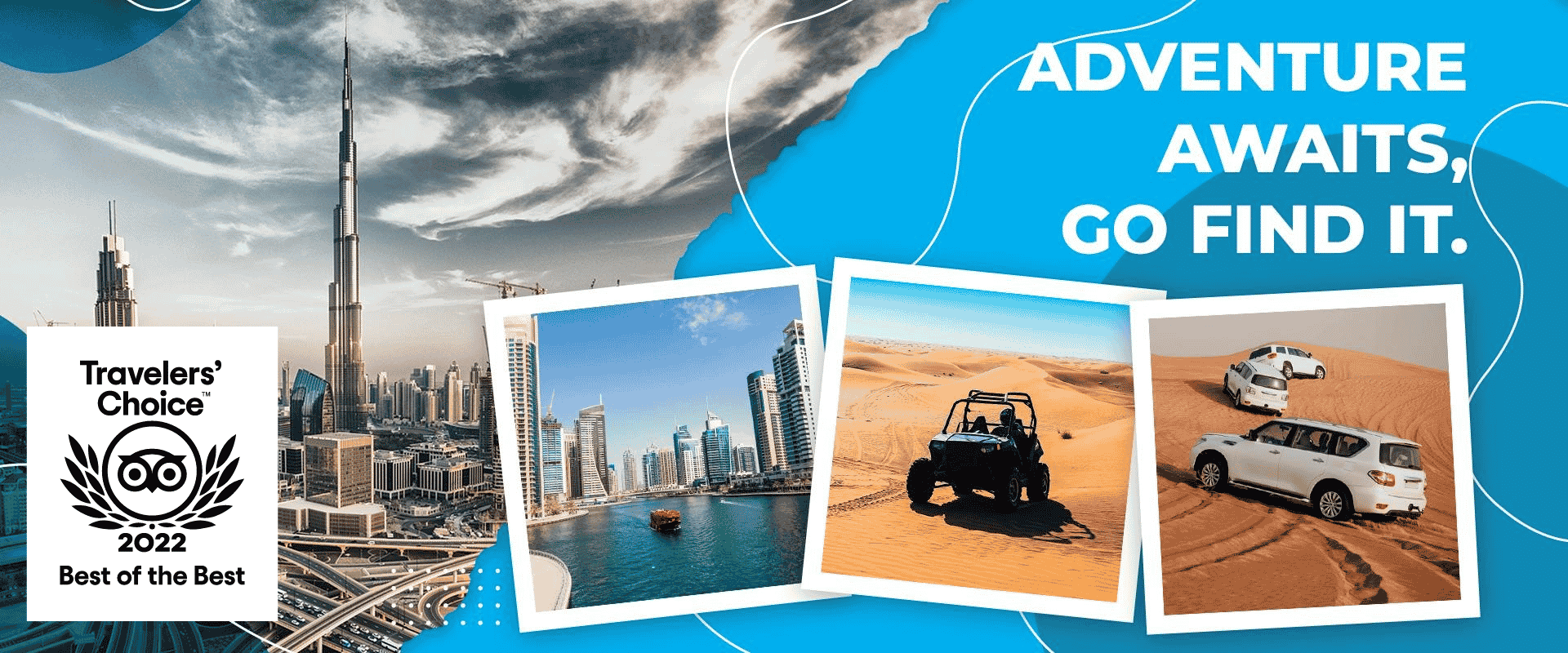 Trending Activities - UAE
Find a Tour by
Best Holiday Packages - Dubai
Desert Activities - Dubai
Take a Look at Our
DISCOVER DUBAI TOURS WITH SKYLAND TOURISM
The city of Dubai, situated on the Emirate's northern coastline, is one of the most searched after vacationer locations among the seven urban communities of the United Arab Emirates. The transcending high rises, tremendous shopping centers, desert safari visits, and other cutting edge diversion zones are the features of all Dubai Tours. Explore all the breathtaking spots in Dubai with our vacation package for Dubai Tours.
Get Dazzling Dubai Tours at Affordable Prices
Dubai is more incredible, more luxurious (and impressively more costly) than any spot we've ever been to. The world's most expensive, the Burj Al Arab, generally a boat formed structural marvel; the world's tallest structure, the Burj Khalifa, ascending in town; a whole arrangement of Man-made islands. Looking like palm fronds and another format looking like the entire world is being made off the shoreline – all you can enjoy in Dubai Tours! The city is encircled by sand—miles and miles of sand—with undulating rises that are ideal for 4×4 undertakings and camel riding. There is nothing like having a City Sightseeing Dubai; however, you don't need to be rich and famous to enjoy this fantastic city. Get the best Dubai Holiday packages and enjoy your Tour Dubai.
Why you'll cherish the city sightseeing Dubai?
Dive into the fun and culture of Dubai

Stroll through clamoring souks and peruse the stuffed back streets for dazzling materials, flavors, and gold.

Take a morning visit for 

City Sightseeing Dubai

 to Dubai Creek and enjoy an all-encompassing perspective on the city's inconceivable horizon.

Visit the tallest structure on the planet, Burj Khalifa, and get a 10,000-foot view of the city from the transcending perception deck.

Hop on a dhow vessel for a supper journey on the Dubai Creek and experience the city's enlightened sight around evening time.

Take a day trip to the Middle East's first indoor ski resort for Ski Dubai during 

Tours in Dubai

.
Things to Do in Dubai Tours
When planning for a Dubai Tour, please note what to do and when to do it. It will help you from getting confused. When you are traveling with family, always look for the best travel service provider to enjoy your vacation. From extravagance to style to design—it gloats the tallest structure in the entire world: the Burj Khalifa. It is no surprise that this city's tourism industry is soaring and attracts many people worldwide every year. However, because the travel industry is still new in this city, sightseers are pondering precisely what to do in the UAE. Home to the world's tallest structure, the biggest shopping center, and the most significant moving wellspring, Dubai is a spot like no other.
Why Dubai is a Popular Destination
If this doesn't attract you to plan a Dubai Tour package, consider getting an experience out of a ride on ski inclines and surfing on sand hills around the same time. While the entire world loves Dubai, you can plan an extraordinary outing to Dubai on an affordable budget, considering what it has on offer. Due to its versatile nature, Dubai is a top-rated destination among many travelers these days. For all, there is something here, and that is what makes it such a universally attractive destination. 
Best Dubai Tour Packages
Would you like to comfortably fulfill it when you visit Dubai for Dubai Tours by allying it with its history, people, and culture? Then roam around the city with the best tourism company in Dubai.
The Dubai Tour activities of our Top Selling Top Dubai Tours replicate the bona fide tourist experience, which lets you create Dubai's social footprint. Skyland Tourism's Dubai holiday packages redefine natural indulgence. That gives you an extraordinary-style way to discover the Duba city.
We are proud to present our products at any event with a promised selection of exceptional and luxurious Dubai tours designed for tasteful travelers who want the highest amount of personalization, administration, and information. Through our commitment to the unsurpassed and unprecedented opulence of vehicles, the volume of our guides' management, the top-notch food experience, and the spectacular Desert Safari Dubai inside the grounds of an elegant desert retreat, this would be a perfect interaction. These Dubai Tours ingredients organize Skyland Tourism Foundation.
FASCINATING DESERT SAFARI DUBAI TOURS WITH US
Dubai desert safari contributes to becoming the UAE's most significant attraction of Dubai Tours. Most probably, among Dubai's countless entertainment activities, desert safari has demonstrated its excellence in administration and won the hearts of a significant number of tourists worldwide. A large number of holiday-makers and tourists come to enjoy Desert Safari Dubai regularly. This visit is an exclusive star of beguilement and pleasure in all the sparkle of this beautiful, captivating city of Dubai, as it offers an entire day of excitement and sprint in exceptional Arab style for the whole family and every class. Equally, such vibes will remain as great memories with you.
SKYLAND TOURISM IS BEST TOURISM COMPANY IN DUBAI FOR DUBAI TOURS
We're giving you every other reason not to travel with anyone else. Despite the unique services that we have in store for you, you can choose us. Our Dubai tour package starts with an adventurous Dubai Desert safari. It begins with an agreeable pickup office in our cooled vehicles from your home, office, or hotel area. It relies on the package you selected. You'll be drop out and about side after leaving the city's superb landscape behind the sandhills. Our all-around friendly and the exceptionally professional group will energetically welcome you out and around the front to the daring universe of Desert Safari Dubai. Where land cruisers are being prepared to take you somewhere down in the core of this gigantic Arabian desert.
Must-Do Dubai Tours
Traverse and experience the natural splendor of the Dubai desert Safari and check the adrenaline when driving with our professional master drivers to Red Sand Dunes' highest point, following appropriate standards. We have entertaining Sand Dune Bashing, where you have the opportunity to ride in 4WD as our driver exhibits to you his abilities and skills. Accordingly, you'll experience an adrenaline surge siphoning in your veins. Security is our top priority making Dubai's destination management company Skyland Tourism top of the list. So no need to worry about fulfilling your active participation in the trips. Our drivers are expertly trained so that you'll have an excellent time out of it while making sure your protection is flawless.
...
YOUR SATISFACTION IN DUBAI TOURS
Skyland Tourism is the best tourism company in Dubai and has always been searching for its customers. And we can prove it by showing you our reviews of tourists. You will visit our Travel Planner and see our feedback. We do have Trip Advisor awarded Certificate of Excellence.
Our Dubai Holiday packages have always given our customers conservative and effective administrations to be pioneers and innovators. Inside the industry of activity, major business roads that we associate with. And use every one of our endeavors and smart administration. Moreover, our long-run connections are always perceived as the primary benefactor of value travel and business-associated administrations worldwide.
Dubai Tours consists of many other different specialties. Some like significant skyscrapers, some like fun rides, while some like sightseeing and walking around. So don't you worry, Skyland Tourism, the best DMC in Dubai, has got you covered. We have combo Dubai tours package, premium tours, and Dubai holiday packages to fit you in whatever you want. If you're a crafted and ride lover, you can choose our Burj Khalifa and Ferrari World Combo tour. It is just the beginning. We ensure the best facilities are offered to our clients and visitors at extremely competitive rates.
For a long time now, Dubai Luxury Tours has progressed and become a hub for universal meetings, visits, motivators, and many more events.
THE MARVELOUS DUBAI TOURS EXPERIENCE PROVIDED BY SKYLAND TOURISM
It is additionally home to a portion of the world's most fantastic and most lavish inns that give their visitors a blissful encounter. You can also choose inns on the waterfront to wake up to dazzling beaches every day. Again, you can settle in with breathtaking scenery of rugged mountains and magnificent struck-motivating coastline. Dubai has a cosmopolitan way of life combined with local culture-Dubai offers one or the other to the guests from convention eateries serving neighborhood dishes to a few alternatives in terms of amusement. If you need a world-class shopping experience, then at this point, Dubai can be the best choice for you. You can get the main shopping centers in town, and you can also visit the gold souk on the off chance you want to buy the exquisite gold ornamentation you want.
Experience Dubai with Skyland Tourism, an exclusive tour given as our exquisites for all. Dubai's landmark culture and modernization showed its full glory. Go and have your life's unique Dubai experience with the best tourism company in Dubai.
If you're considering a trip to Dubai for the first time and unsure how to book the best Dubai Holiday Packages, visit us at https://skylandtourism.com/